Thank you for registering for the Leaky Brain Summit — use the links below to get the most from this page!
1
Here's your link (bookmark this page)!
leakybrainsummit.com/event
This is your DAILY LINK to each day's talks. You DO NOT need an email each day to access the talks, but you may need to clear your browser history when a new day starts!
2
Add Day 1 to your calendar!
Starting Monday, June 29, 2020, at 10:00 A.M. U.S. Eastern.
Add to Calendar
06/29/2020 10:00 AM
07/11/2020 10:00 AM
America/New_York
Leaky Brain Summit
Join at https://leakybrainsummit.com/
Health Talks Online
[email protected]
true
MM/DD/YYYY
alrXHeAQozSbtumTjmAc25014
3
Enjoy your FREE gifts!
13 Steps to Balancing Your Brain Chemistry without Dangerous Prescription Medication eBook
from Drs. Elena Villanueva and Ryan Wohlfert
Your body is an amazing, complex chemical machine, designed to restore and heal itself. But when it's burdened with toxins and unseen infections, your body and brain can develop disease, including anxiety, depression, dementia, Alzheimer's and more. Learn how removing environmental interferences can help you optimize your overall health and well-being.
Detox Your Home: 5 Natural Solutions to Heal Your Brain & Boost Your Energy eBook
from Drs. Elena Villanueva and Ryan Wohlfert
Did you know your home is one of the most TOXIC places in your environment?! It's likely full of toxins that are impacting your brain health. This 5-step guide provides easy-to-follow solutions that you can implement NOW to decrease toxic exposure and get your brain and body back to ideal operating conditions.
Fix Your Sleep in 10 Easy Steps eBook
from Elena Villanueva, DC, and Ryan Wohlfert, DC, CCSP
Health experts agree that the #1 upgrade for brain health and function is SLEEP. Deep sleep allows your brain to heal, repair and remove metabolic waste, improves immune system function and balances neurotransmitters and hormones. Learn how to reverse and protect yourself from brain fog, fatigue, mental health disorders and brain degeneration.
3 Interview Transcripts from The Leaky Brain Summit
from Drs. Elena Villanueva and Ryan Wohlfert
Your hosts of The Leaky Brain Summit, Drs. Elena Villanueva and Ryan Wohlfert, have selected these transcripts as amazing examples of what you'll learn over the course of this event. Grab these interview transcripts, and gain insights from Drs. Elena Villanueva and Ryan Wohlfert, Dr. Christine Scaffner and Dr. Greg Eckel!
Coronavirus Support Series
from Dr. Eric Zielinski and Wendy Myers, FDN-P
To help you during this time of crisis, Dr. Z and Wendy Myers have established this free interview series to provide expert advice and information about the sudden lifestyle shifts that must occur in our daily practices, routines and habits while dealing with this new, extended (and potentially recurring) threat to normalcy posed by COVID-19.
Enjoy these BONUS gifts from our VIPs!
By clicking the buttons below, you consent to receive offers and related promotional communications from the Sponsor providing that gift. You can withdraw consent at any time.
Let's "Talk" About BRAIN HEALTH eBook
from HealthMeans
Enjoy reading these 3 expert talk transcripts pulled from the 1000s of talks in our HealthMeans library! In this 39-page document, learn about "Balancing Brain Chemistry: Targeted Individual Amino Acids for Anxiety & Depression" with Trudy Scott, CN, "The Brain-Belly Connection" with Dr. David Perlmutter and "New Brain Science Discoveries to Heal Your Life" with Bill Harris!
Mama Z's Recipe Makeover eGuide
from Eric Zielinski, DC
Beat autoimmunity and unhealthy food cravings with foods YOU love! Learn how to transform your family's favorites into sugar-free, dairy-free, gluten-free meals that you can eat without guilt!
Essential Brain Hygiene eBook
from Christine Schaffner, ND
Learn why having a daily brain hygiene practice is just as vital to your health as brushing your teeth! This 20-page eBook shares strategies for removing toxins from your brain, reducing the impact of neurological disease, supporting your glymphatic system and more! You'll also receive information about key supplements and binders that optimize brain health.
The Brain Regeneration eGuide
from David Jockers DNM, DC, MS
Dr. Jockers shares the best strategies and protocols for healing brain toxicity, stimulating brain cell autophagy and regain control of your mood, memory and brain health.
25 Surprisingly TOXIC Everyday Products to Stop Feeding Your Body eReport
from Brian Vaszily
Many of the products you use daily may be a source of toxins that can lead to premature aging and chronic disease. This in-depth report reveals the popular clothing you want to avoid, the pet products that often contain a nerve poison and the pillow types that have been linked to cancer, liver and kidney damage, memory problems and more!
Autoimmune Secrets: Transcriptions and Q&A Sessions
from Jonathan Otto
Discover the truth about healing in this amazing docuseries. Access interviews and transcripts from doctors, scientists and survivors of thyroid disease, lupus, autoimmune disease, Lyme, Alzheimer's, dementia and many more complex health challenges!
101 Natural Health Remedies Secrets eBook
from 365 Daily Health
Discover the secrets of ancient cures, natural treatments and simple home remedies to treat common ailments and regain control of your health!
Top Supplements For Energy and Mitochondrial Health
from Ari Whitten
In this incredible guide from The Energy Blueprint team, you'll learn the top 25 non-stimulant compounds to increase your energy levels and optimize your mitochondria, the special compound proven to increase your energy levels by 40%, 4 key compounds that enhance your brain's performance and mood, and more!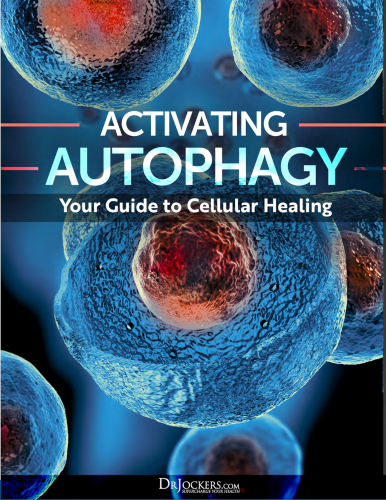 Activating Autophagy: Your Guide to Cellular Healing eGuide
from DrJ Publishing
Autophagy is a process in which your body renews and rejuvenates its cellular components. This action is critical for optimizing your health and preventing disease. Discover researched-based strategies and attain deep cellular healing!
3-Day Kickstart Brain Fog Elimination Plan eGuide
from Tom O'Bryan, DC, CCN, DACBN
You'll learn what brain fog is and how to prevent or reverse it! Discover how EMFs, dehydration and foods like wheat and dairy can impair neurological function and which supplements can promote brain cell regeneration.
5G - How to Protect Yourself eBook
from Lloyd Burrell
Learn why some experts fear that 5G is a bigger threat than existing EMF exposures. This powerful eBook includes links to over 50 scientific references detailing the technological characteristics and health hazards of 5G and contains a comprehensive action plan to help protect you and your family.
7-Day Hormone Recharge eBundle
from Michelle Sands, ND
Have more energy, improve your mood, lose fat, feel healthier and recharge your hormones in only 7 days! Dr. Michelle shares her 7-day program and delicious, nutrient-dense recipes to help you renew, restore and revitalize your body in just one week!
10-Step Brain PowerUp eGuide
from Patrick Alban, DC
Do you want to feel happier, be less stressed, think more clearly and improve your memory? Who doesn't? Learn how to upgrade your brain using some of the best (and easiest) brain-boosting tips based on the latest science that you can do in just minutes per day!
4
Enjoy your introductory expert talks!
Bookmark this page in your browser so you can return to it at any time.
Leaky Brain: Causes and Case Studies, Pt. 1
from Ryan Wohlfert, DC, CCSP and Elena Villanueva, DC
Download a Transcript of this video
In this free video, learn:
Environmental toxins and brain disorders
Case study: OCD and suicide ideation
Case study: Parkinson's-like tremors
Hidden Causes of Neurodegeneration
from Christine Schaffner, ND
Download a Transcript of this video
In this free video, learn:
Most overlooked symptoms
Brain health is not a "one-size-fits-all" approach
Path to optimal brain health
Maximize Brain Health, Minimize Leaky Brain
from Greg Eckel, ND, LAc
Download a Transcript of this video
In this free video, learn:
Early signs of neurodegeneration
Key steps missing from your doctor's assessment
Regenerative effects of stem cells, CBD and oxygen
6
Meet your hosts!
Dr. Ryan Wohlfert has helped thousands of patients elevate their health and energy at his multiple chiropractic, nutrition and wellness clinics. He's the co-creator and host of the Superhuman Brain Masterclass, bringing together the world's top neuroscientists, brain researchers, doctors and health hackers to uncover proven solutions to upgrade the brain to high energy and performance, reaching 100,000+ people worldwide. He also founded Total Health Spine & Nutrition and BrainEnergyUpgrade.com to help people break free from dependence on drugs and medications, upgrade their brains for maximum energy, performance and longevity… and be their own guarantee.
Dr. Elena Villanueva is an internationally recognized crusader for ending the global mental health crisis and educating the masses that mental health is a brain health issue. Her expertise is in helping individuals find and address the underlying cause of depression, anxiety, memory loss, Parkinson's and other mental health disorders and disease. After almost losing her own life to mental health disorders, with no answers or solutions from conventional medicine, she started searching for her own. It was through studying various nontraditional approaches not taught in conventional medical schools that she found her answers and restored her brain function.
Dr. Villanueva educates both the public and health professionals in using data-driven approaches to finding underlying causes and in using holistic approaches to treat brain-related disorders and disease. She has been featured on FOX news, MSN, Healthline, Houston Chronicle, Anxiety and Depression Secrets Docu-Series and others.
7
Get the HealthMeans Spotlight on Brain Health, FREE! —
8 of our "best of the best" talks on health and healing — when you create a FREE account today!
8
Take advantage of sale prices when you order today!
Select Your Package
Expert Talks + Case Studies & Mastery Sessions + Online Access Only
Access the following via exclusive online portal.
$119 $59 Expert Talks + Case Studies & Mastery Sessions + Online Access Only
Buy Now
Most Popular
Expert Talks + Case Studies & Mastery Sessions + Flash Drive
Access the following via exclusive online portal & flash drive.
$199 $99 Expert Talks + Case Studies & Mastery Sessions + Flash Drive
Most Popular

Buy Now
Expert Talks + Case Studies & Mastery Sessions + Printed Transcripts Book
Access the following via exclusive online portal & transcripts book shipped to your address.
$199 $99 Expert Talks + Case Studies & Mastery Sessions + Printed Transcripts Book
Buy Now